To upload a contact list manually into Pure360, you need to do the following:
Go to the "Contacts" dropdown on the top menu.
Select "New contact list".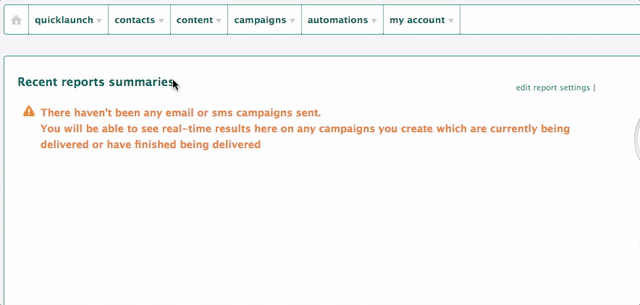 Remember, you can also export contact lists directly through from the RMP Connect database, and you can read more about this by clicking here.
The first step involves giving your contact list a name, and then uploading your file as a Comma Separated Values (.csv) file. If your spreadsheet of names and email addresses is not in .csv format, you will need to convert this within Microsoft Excel beforehand. You then need to click the "Next" button to proceed.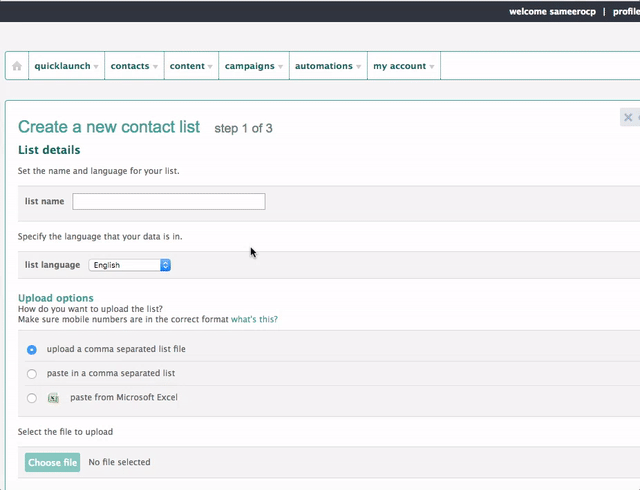 Field Mapping
The second step involves a field-mapping exercise, through which you are able to let the system know where to pull the students' contact details from within the sheet you have uploaded.
Under the "Default fields" section, you will be required to let the system know which column the email addresses are in within your spreadsheet, or the mobile numbers if you are using this contact list to send SMS messages to.
Open up the dropdown to the right of "email address" and/or "mobile number" to select the relevant matching data.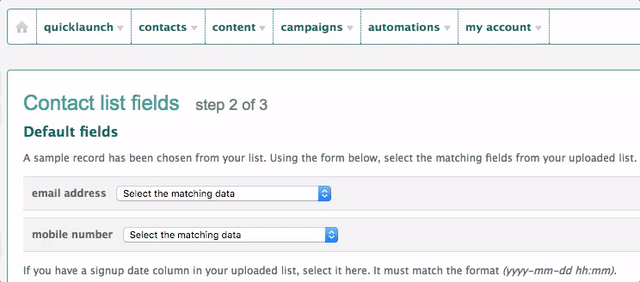 In the example above, we are letting the system know that email addresses sit in the 2nd column of our spreadsheet, and mobile numbers in the 3rd column.
If you also have the recipients' first names in the spreadsheet that you are uploading, scroll down to "Custom fields" to map this. You will need to have the first names if you want to make use of Personalised Greetings.
If exporting a mailing list from RMP Connect, the first names of the students will pull through automatically, and you will be able to make use of Personalised Greetings.
To map the first names:
Open up the dropdown under "existing column name" and select "firstName".
Open up the dropdown under "select matching sample column", and select the column in which the first names are positioned.
Click the "Next" button to proceed.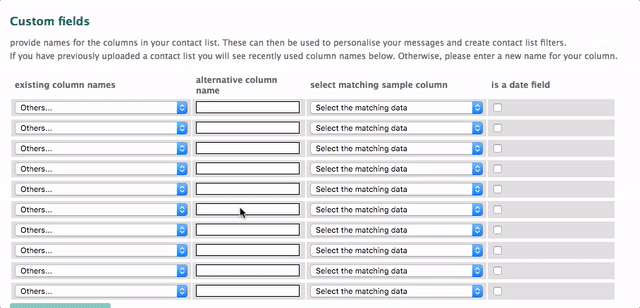 Confirmation
The final step will provide you with confirmation of your field mapping. Once the contact list has been uploaded to completion, you are able to receive a notification via email - just pop your email address in above the summary and click "finish".