You can view how well received any of your automated emails have been through one to one reporting.
Once a one to one email has been sent, you can view details of how successful this, or a group of messages were, in a one to one report.
To access your one to one reports, you need to do the following:
Go to "Campaigns" on the top menu.
Select "one to one reports" from the dropdown.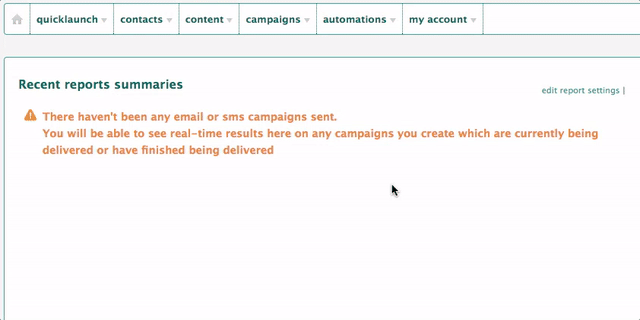 The search box at the top of the page enables you to search for particular autoemails, and filter out details of messages you're not interested in. You can add or remove rules to your search, for example based upon message name or delivery date, and use the drop-down and text boxes to modify these criteria.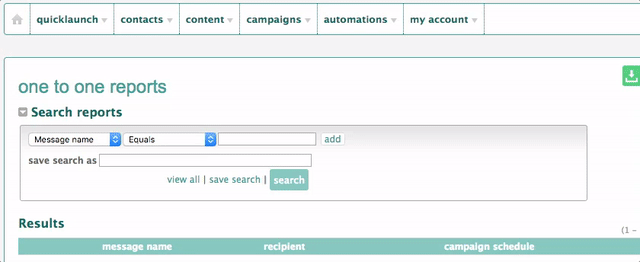 Once you have entered all your search criteria, click on the search button and a list of the appropriate one to one emails will be displayed below.
When the search results are displayed, each autoemail will show a "view report" button, if it was opened/clicked on. You can choose to download a report based on all the messages shown using the "export" button.
Alternatively, you can view a detailed report by clicking the "view grouped report" button in the top right hand corner.

Grouped Report
The grouped report is firstly broken down into a Summary and Received Breakdown.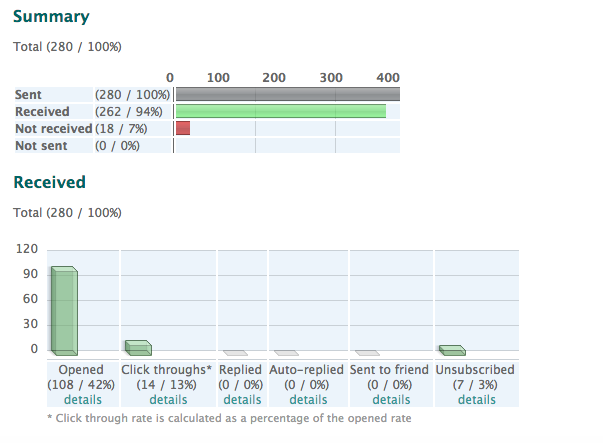 Summary - This shows both totals and percentages of messages sent, received, not received and not sent.
Received - This shows how many recipients of this autoemail opened, clicked-through, replied, auto-replied and unsubscribed.
As with Campaign Reporting, you can click the "details" button under any of the above actions (e.g. Opened), to view the email addresses of those recipients who carried out that particular action.
Underneath the above chart, you will be able to view which links (top 5 only - click "see all" to view any further links of interest) within the email were clicked on, and how many times:

Towards the bottom of the report, you can view a Not Received breakdown, which shows how many emails were affected by the following:
Bounced

Soft bounced

Blocked
You can also view a Not Sent breakdown, which shows how many emails were affected by the following:
Already bounced

Passively Unsubscribed

Contact Frequency Limit applied

Previously Unsubscribed