About Guest list options
If you have duplicated a guest list template, then you have some further options available to you that can help you manage your guest list.
You have the following options:
First and final day of your event
To set the first and final day of your event, you need to do the following:
Click into your event and click the "Edit" button.
Scroll down, click on the first and final day boxes and choose dates from the calendar.
Edit Event features
Turn Edit & review records inside the app on or off.
Turn on or off Require app passcode to exit the form - You can choose this based on your own security preference.
Setup online pre-registration - After you have toggled this on, you can select a time and date to close pre-registration (for example 48 hours before the event begins), under the Set an end date for pre-registration for this event header.
Set a maximum number of pre-registrants - This limits the amount of students on the guest list and is useful if you have restricted capacity at a venue (don't forget to factor in any potential dropouts into your limit) - by default, there is no limit, as this is not a mandatory option.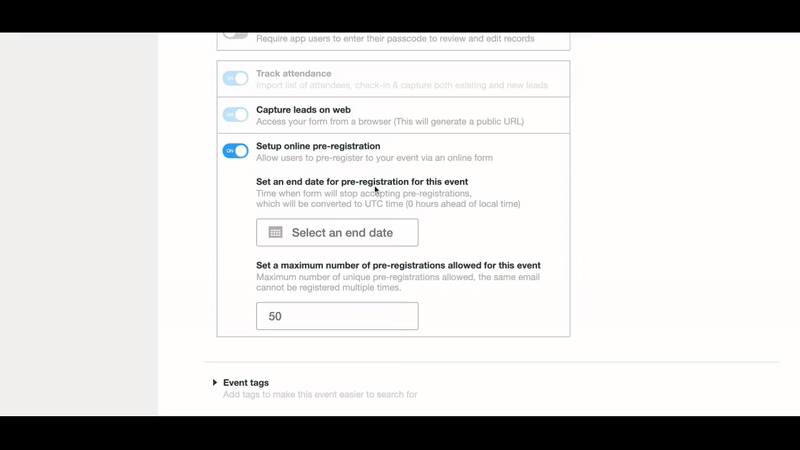 If you are using RMP Connect, it is important to then set an Interaction tag. For more information on event tags, please follow this link.
Once you have set the guest list options to suit your event, click Continue at the bottom of the page, where you will be taken through to the Form Builder. To find out more about editing your form, please read this article.