Start checking in students
To be able to check in students you will need to have created a guestlist event and either uploaded a guestlist via a csv or through using a web form to pre-register. To find out more about creating guestlist events click here.
Start by selecting your Guest-List Event from the list.
You will then be taken to the records of students on your guestlist and from here you can check in students.
Hit

'Add +'

on the top right of the screen
You will be taken to the 'Did they register before the event?' screen
Student has pre-registered
If they have pre-registered, select the 'tick' symbol to confirm, from here you will be taken to the list of students who pre-registered.
Select the student's name, you will be taken to the

'Guest list'

screen to confirm their name and email address

Select the

'tick'

to confirm it is the correct person

Select

'Done'

and you will be taken back to the

'Check-in'

screen, where you can continue to check-in and collect data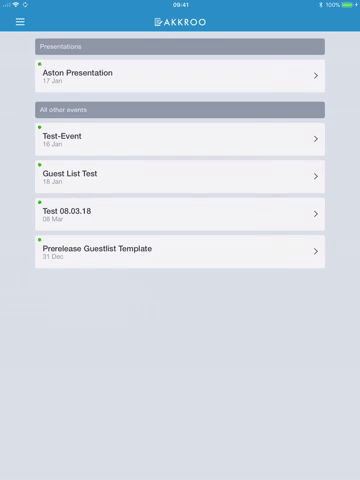 Student has not pre-registered
If the student has not pre-registered, select the

'x'

symbol on the

'Guest list'

screen
In this case, you should hand the iPad to the student to let them input their data
Make sure they hit

'Register'
You will be taken back to the 'Thanks for registering' page again