About Editing your Form
Once you have duplicated your templates or created an event from scratch, you can then start to customise the questions and branding on your form.
Forms are completely customisable, however its worth keeping a consistent set of questions across your events to make sure you are getting a full dataset. Once you have captured data into your event you will not be able to edit your questions, so make sure you are happy before capturing any data.
To start editing your event, you need to do the following:
Click "Continue" once you have named your event and set your different options.
This will take you to the form builder.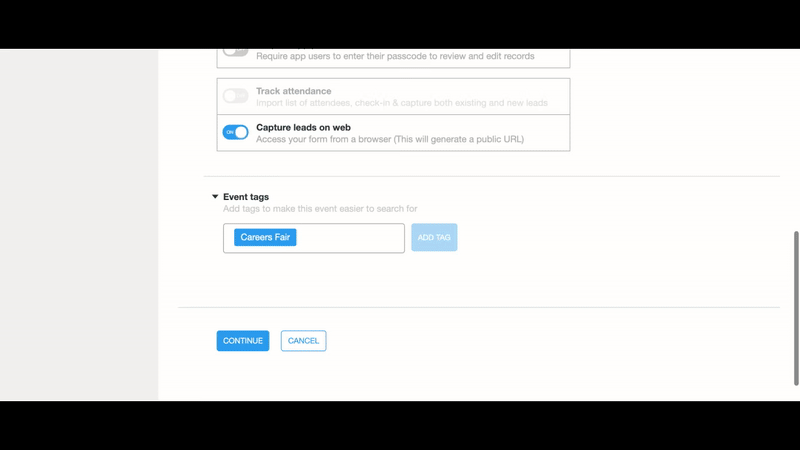 You can then start adding your branding image and questions.
If you have duplicated your templates, then you should have your standard set of questions and a branding image in the form already. If you have created an event from scratch, you will need to add in all of your questions.
To add your branding image, you need to do the following:
Click 'Add a branding image'.
Select Branding banner, for the top of your form.
Select Upload a file (Dimensions: 720px x 320px) and choose an image.
To add in a new question, you need to do the following:
Click 'Add a new question'.
When you do this, you will be presented with a number of question types. At the top it will list some common questions ('Contact fields') that are already made and set up for you, such as Full Name and Email.
Note that for Guestlist forms Name and Email will be pre-selected for you as mandatory fields.
Below the Contact Fields are 'custom question' types such as text, dropdown and multiple choice. This is where you can build your own questions.
Just below this is a group of preset questions specific to the university market with pre-filled lists of universities, courses and graduation years.
Select a question type, such as a dropdown list.
Give your question a title, such as "How did you get to the event today?".
You can then set your question to be mandatory or non-mandatory by checking the box next to "This question must be answered".
Depending on the type of question selected you may need to input specific 'options' for the user to use. Note these on the right hand side of the page.
Click the blue "Done" button to finish editing your question.
You are then able to re-order your questions, by dragging them up and down in the form.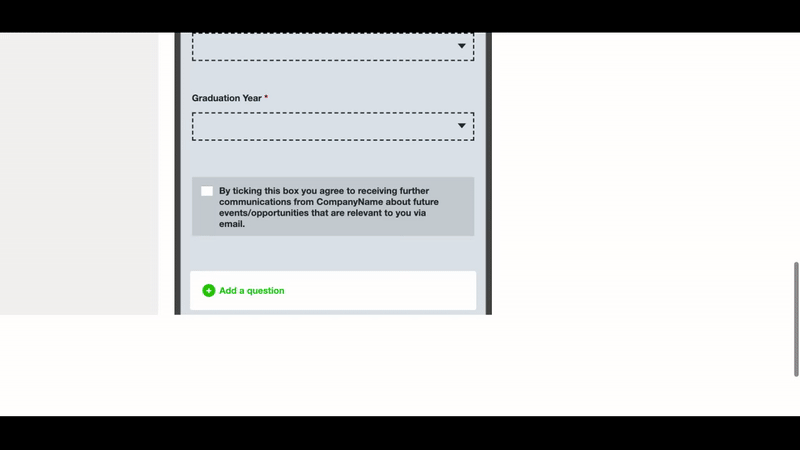 You also have the ability to pre-fill questions. If you are attending a particular university for example, you can pre-fill the University question with the university you are visiting, so that students don't need to fill it in. This can be a big time saver, especially at careers fairs.
To pre-fill a question, you need to do the following:
Select your question.
Locate and select "More options" on the right.
Locate the dropdown menu below 'preselected value'.
Select the relevant option from the dropdown (e.g. "Bristol, University of" if the event is at the University of Bristol).
Click the blue "Done" button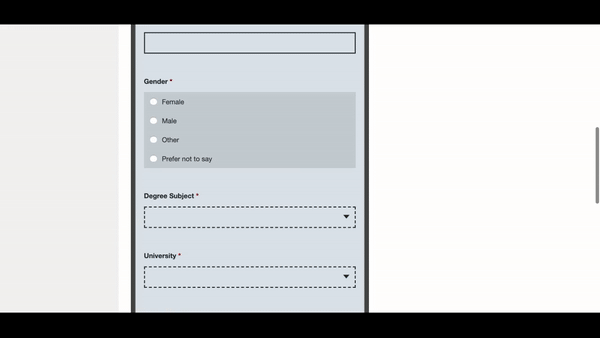 Once you have completed your edits make sure you click the blue 'SAVE & FINISH' button (bottom left)