This July, we'll be releasing a new enhanced version of the Akkroo app on IOS and, for the first time ever, on Android Play Store. The new app will mean you can capture data through a much bigger range of devices, as well as bringing improvements to the data capture experience at event.
Below is a summary of the updates you'll be seeing. These updates will have an effect on how you use the app, so it's important to have a read through.
Your Account Manager will be in touch in the coming weeks to offer instruction and training on the new app, but if you have any questions at all in the meantime, feel free to contact help@rmp-connect.com, or your Account Manager directly. 
New Akkroo vs Legacy Akkroo
On the 9th July, we'll be releasing a new Akkroo app to both Android and IOS. Note — this will not be a standard updated version of the existing Akkroo app, but a completely separate release.
 The new app will bring:
Enhanced performance – the new app will be faster, with a sleeker look and feel.
Improved reliability – whenever and wherever you're using the app both online and offline.
Upgraded security – as part of our ongoing commitment to high enterprise standards and expectations.
Future proof - enabling faster development to meet your future challenges head-on. 
However, so that there's flexibility around the transition to the new app, and because guest list/check-in functionality will not be rolled out in the initial release, for a period of time there will be two versions of Akkroo on IOS app store available to download: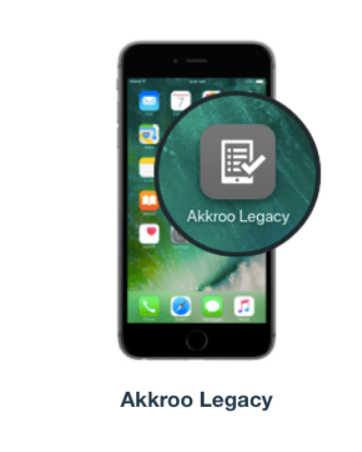 If you know you will be using the app at events that require the guest list/check-in functionality, it is therefore important that your team remain on Akkroo Legacy for the time being. Your account manager will keep you informed as to when guest-list will be launched on New Akkroo.
Note: There will be no changes to the Akkroo Legacy functionality on IOS, so you are free to continue using it exactly as you do now. Akkroo Legacy will not be available on Android Play Store.
App-User Authentication
To enhance security, on the new app we'll also be releasing individual app-user authentication, which will replace the company username and passcode that's always been in place up until now.
In practice, the login process will be almost identical, but it means that it will be possible for every app user to have their own unique app username and passcode for their own device.
Note: For companies that predominantly use shared devices, it will still be possible to set up a generic username for an app user. This way, it can be easily used by different representatives at events without having to re-download the app each time. 
You'll be able to manage your 'App users' from your online dashboard, which we've created a short video guide for here.
On Akkroo Legacy, you will still be able to use the existing company username and passcode, and will be able to until you move over to the new app. 
What does this mean for you?
In the short term, no actions are required on your part.
The main thing to remember for now is to make sure you continue using Akkroo Legacy for the time being if you have guest list events between now and December. 
Your RMP Connect account manager will be in touch to offer training on the new app before you start to use it, but do feel free to contact them directly if you have any questions in the meantime.