1. Hyperlinks
You can hyperlink a word, or series of words, to link out from your email to a URL of your choice.
Highlight the relevant word or words.
Click on the Insert/Edit Link icon.
Insert your URL in the Link URL box.
Click on Insert.
Styling hyperlinks
In the Advanced tab of the Insert/Edit Link options, you are able to add styling to your hyperlink in the Style box. You are able to create the styling from scratch, or simply copy the styling from a separate hyperlink within your email. 
If you don't have an existing link with styling in your email, get in touch with your Account Manager who can provide this for you.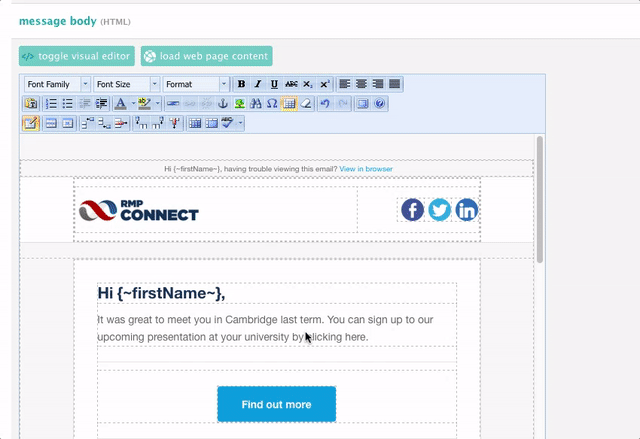 2. Editing Buttons
You can amend the copy on a button by simply typing onto the button itself. You will need to leave a single character either at the beginning and end of the copy, before typing your desired wording in the button.
You can then insert a hyperlink from the button in the same way that a word or series of words would be hyperlinked.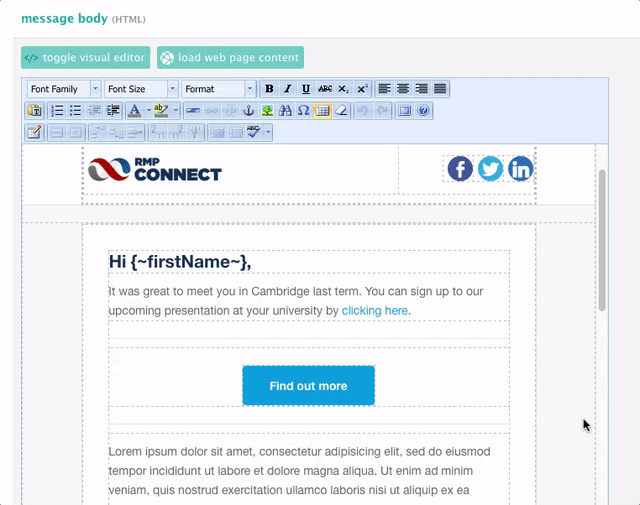 3. Converting to Plain Text
Once you are happy with how your email has been set up in the Visual Builder, you will need to convert the plain text version of the email to match what has been set up in the HTML version.
Email client's spam filters read the plain text version before determining whether the email can pass through into the inbox, or whether it belongs in the spam folder. The plain text version must match the HTML in order for it to not be perceived as spam.
A small percentage of your recipients may be using older email clients which only show the plain text element of an email, therefore this must still be able to show the correct content for this particular subset of your audience.
To carry this out, you will need to take the following steps:
Toggle from the HTML view into the plain text view (the plain text toggle will now be white)
Click the Convert HTML to plain text which is located just above the message body
Click Ok on the pop-up which appears
The plain text will have adjusted
Toggle from the plain text view to the HTML view into the (the plain text toggle will now be green)
You can now select Save and close in the top right hand corner to save your email.