After a campaign has been scheduled and sent out, you can view how well received the campaign has been, in terms of key engagement statistics such as the Open and Click Through Rate.
View Campaign Reports
To view your campaign reports, you should do the following:
Select the Campaigns tab
You can then choose to view your campaigns in a list or gallery view. The list view gives a summary of the headline stats of each campaign.
Compare Campaign Results
To compare results across different campaigns, you should start by:
Selecting the Campaigns tab
To the right of the screen, select Compare Campaigns
You will then be taken to a Comparison Summary, Analysis and Campaign Selection where you can adjust your search results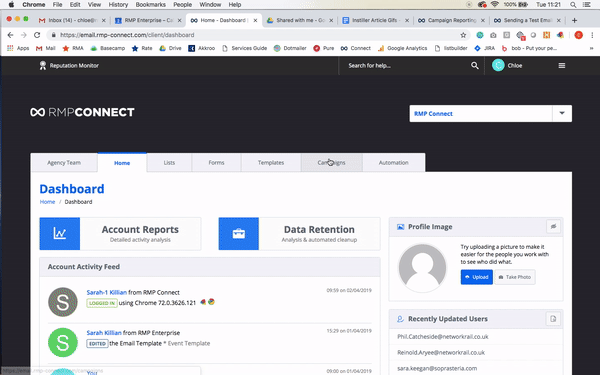 To view the results of one particular campaign:
Under Details, select the campaign name
You will then be brought to an Overview of the results and if you scroll down, you will be able to download the stats
Including the Overview, there are 6 sections that you can go through to check the campaign results, these are -: Analysis, Response, Social, Tracking and Deliverability
You can download the entire results of the campaign as either a csv or pdf by pressing the blue Export button to the top right of the screen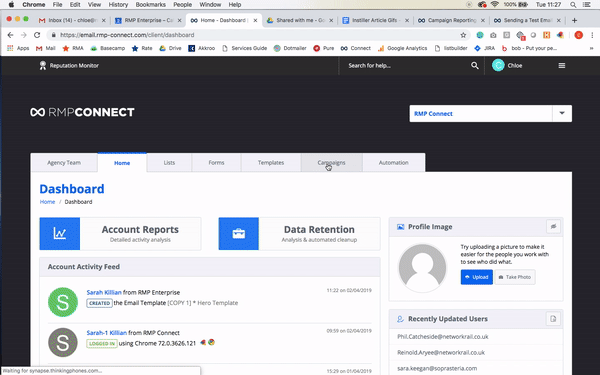 Analysis
Lists - this first section covers the delivery rate, open rate, click-through rate and active users 
Realtime Block List - this details any email addresses that been blocked
Engagement Timeline - shows the timeline of when the email campaign was opened, clicked or opted out from
Email Apps & Devices - this gives details of which devices and email apps were used by recipients 
Clicked/Opened by Domain - you can toggle between Clicked and Opened. This is useful if you want to know which educational institution or company was most engaged in the campaign
Exit Survey - this shows the Opt-out rate and any reason given
Location - IP address used to click or open an email to determine location
Response
Links Clicked - 'Clicks' represents the total for each unique link. You can download these totals by clicking the Download drop-down button and select Individual User Data or Click Summary
User Activity Stream - Shows the activity of campaign recipients (opens, clicks, etc.) in descending order
Social
If you included any Social Share Tags in your Email Template, clicks on these links will be reported here. 
Tracking
Click Map - A visual view of where Users are clicking in the email 
Web Metrics - Details if Web Metrics (such as Google Analytics) were enabled for this Campaign and which settings were used
Deliverability
Bounced: Classification View - This is useful for seeing why email is not getting delivered. 
Bounced: Domain View -  This is useful for seeing which domains are not receiving your email. If one particular ISP has a high number of hard bounces it could indicate they are blocking your email
For extra detail on either of these, download the CSV report using the "Download" link