Styling the Email Content
If you have created a new template, you will be brought directly to where you can edit the email content. If you have duplicated an existing template, then you must first select Edit Content to be brought to this view.
On the left of the screen, there will be three options to toggle between, Properties, Content and Images, below is a quick overview of these:
Properties 
If you want to edit the Canvas or Background colour, you can do so by clicking on one of those options, choosing the colour and pressing OK 
If you wish you change the snippet of intro text that gets displayed when people preview the email in their inbox, you can do so, in the Preview Text box
In the Base Typography section, you can change the overall Font size, style, colour and you can also edit the Link styling
You can add or edit the Border Properties such as colour and width in the Borders section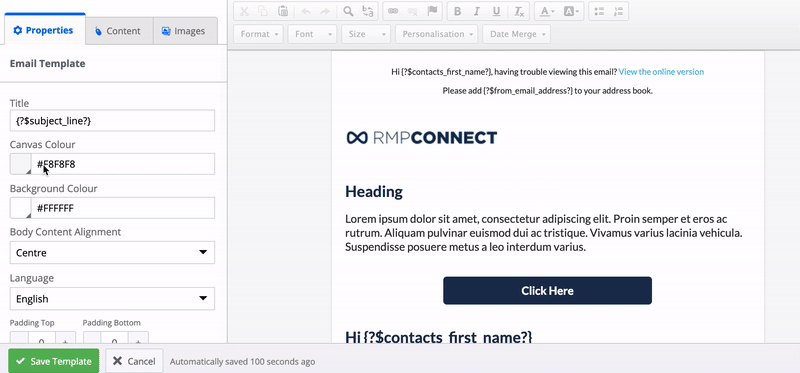 Content
If you toggle to the Content section you can add Content Blocks such as -: Buttons, Image place holders, Text place holders, amongst other options
To Add a button for example, select Button at the top
Place your cursor over the button you want and then you can drag and drop the button in the email content in the section you want once Drop content here appears
You will then be brought back to the Properties Tab where you can edit the Content block
If you click on the button itself, you can edit the call to action text, add website links, and style the colour and size of the button
Once you have made these edits, you can apply the changes to all the buttons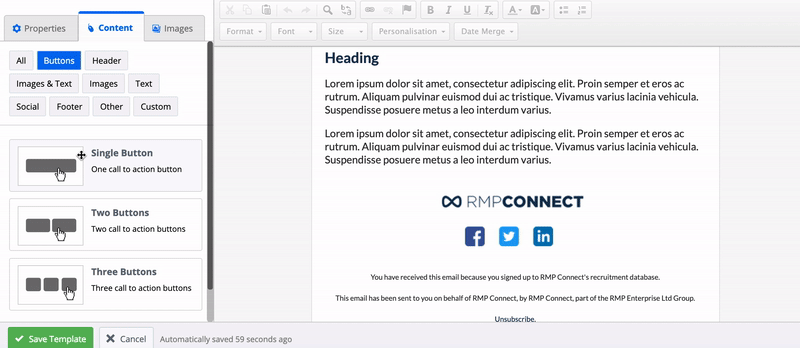 Images
The third tab is the images tab, you can either drag and drop images or upload them by selecting click here to browse for files, then select the relevant image
Insert images into the email by selecting the image and dropping it into the appropriate Image Content Block
Images should not exceed 600px in width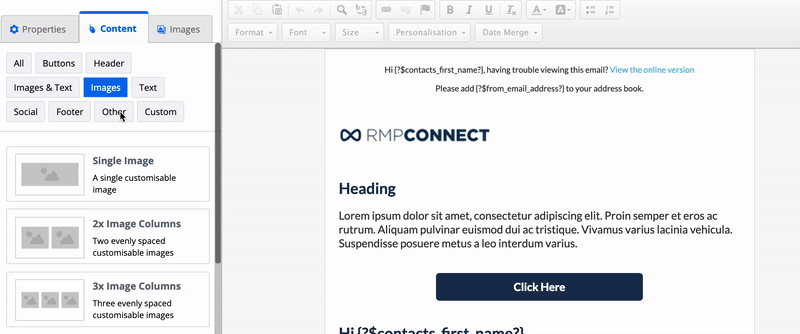 Editing the Text Content
You can edit the text content by typing directly into the Text Content Block. To add a new paragraph, you simply need to add a new Text Content Block and edit your text.