Start with the basics
You've thought about it, you've dreamed about and you've finally got this all singing, all dancing Communications Platform via RMP Connect - so, what to do with it now?
The Communications Platform is there for whatever you need, if a role is struggling to fill, you can quickly whip up an email to send out to the most appropriate candidates, if you're hosting an event and want to reach a certain demographic - we're there for you.
This is what we love about the Communications Platform, it's easy to get the results you want, quickly and easily - but have you planned out your long term strategy?
We appreciate it's easier said than done when you're working in a fast-paced environment with a heavy workload and we'll be honest, we're probably not going to turn your world upside-down in the next 5minutes-read but we do have some genuinely helpful tips and advice about communications.
Firstly, what we do know is, the basics work.
Initial Plan
As a starting point, a typical communications plan could include the following -: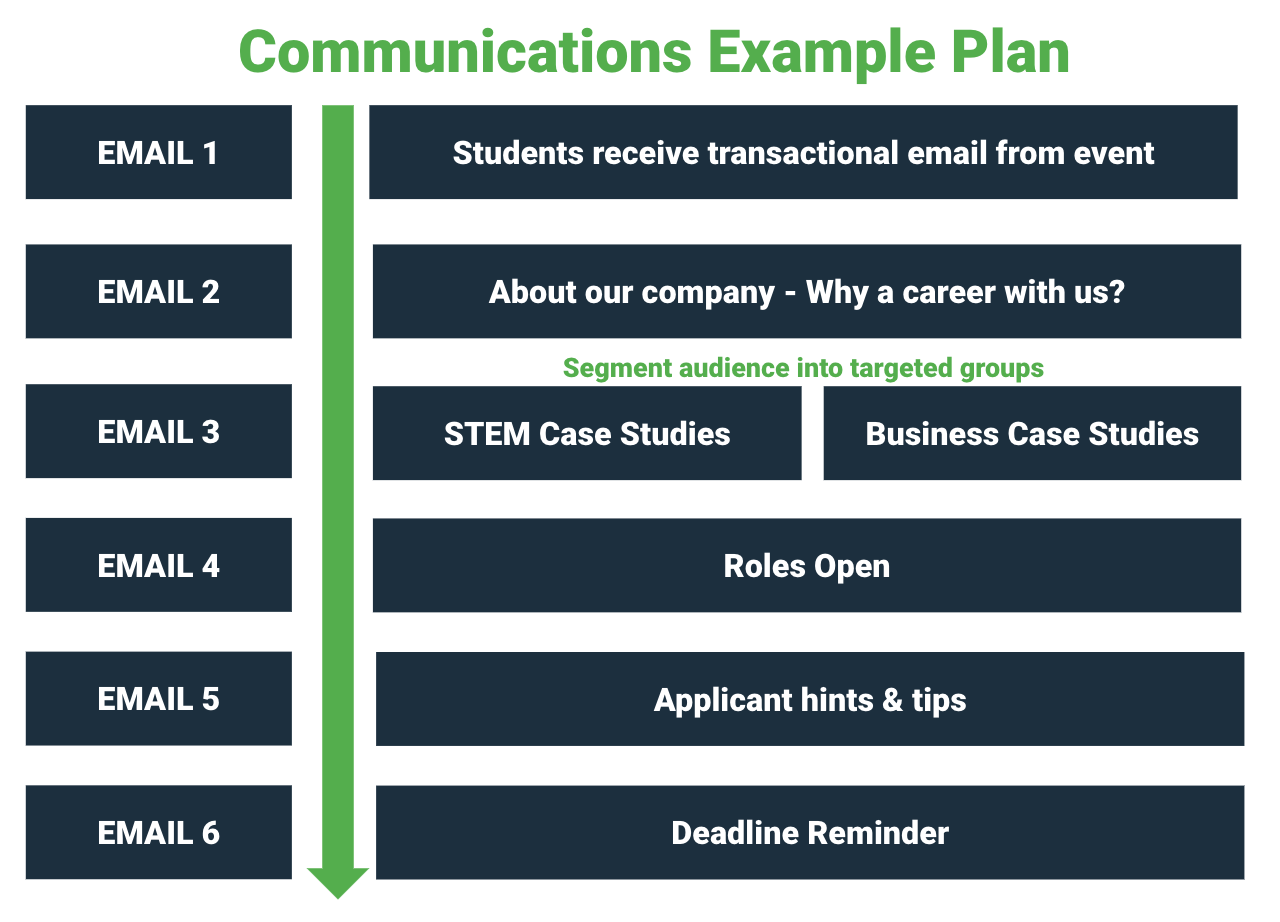 Clients often ask what is a good template to start with and the one above includes a lot of the basic information you may want to send out to potential applicants.
In this example, you've met a student at an event, this could just as easily be a sign up from a Register Your Interest form embedded on your website.
You can then go on to show your audience why they should work for you through great company examples, specific case studies.
Then moving on to roles opening and nurturing the audience with application tips which help them present their best application.
Finally, in this particular example, you would go on to send a deadline reminder to help encourage the maximum number of complete applications.
You could then go on to work on a post interview "keep warm strategy" but more on that later...
Address your pain points
The clients who get the best out of the system, follow a communications plan that addresses their pain points from the previous year.
It's not to say that they don't adapt content to suit changing situations and interesting updates but they have a base plan and most of the content created in advance where possible.
Have you pinpointed what your main pain points are? Are you using your communications strategy to help mitigate some of it?
If not, why not?
Example One - Diversity & Inclusion
At RMP, we conducted a survey of 1,672 students to try to understand student's perceptions of diversity initiatives. We found 95% of respondents feel that diversity and inclusion is important in the workplace and that 65% of BAME students counted an employer's diverse workforce as a top consideration when applying for a role.
If you're struggling to recruit for a more diverse workforce then why not send include case studies or a newsletter which showcase the initiatives your company has already taken to help show your audience this is important to you as an organisation.

Example Two - Reneged Offers
Following the initial attraction stage, if you've seen that you're experiencing a higher level of reneged offers than you're happy with, then why not focus on your post interview "keep warm" strategy.
We normally recommend that emailing your Talent Pool once a week is perfect - so don't be afraid to reach out.
Ideas to keep students engaged, after the offers have been made, are -:
Newsletters
Company updates
Benefits and perks of working for your company
Case studies and inspirational pieces to reinforce the amazing opportunity that lies ahead
Example Three - What's important to your Talent Pool?
Another thing to think about is, do you know what your Talent Pool want from a workplace?
It's great to send out benefits and company culture pieces, but if you knew exactly what meant the most to your audience, you could zone in on particular benefits.
For example, in our survey mentioned above, we found that a positive work environment and mental health support are more important than salary.
You could tap into your own Talent Pool and send out a survey to find out what's most important to them and tailor your content based on that. You could do this at the point where they're most engaged - perhaps if they've just met you at a Career's Fair or after an Assessment day.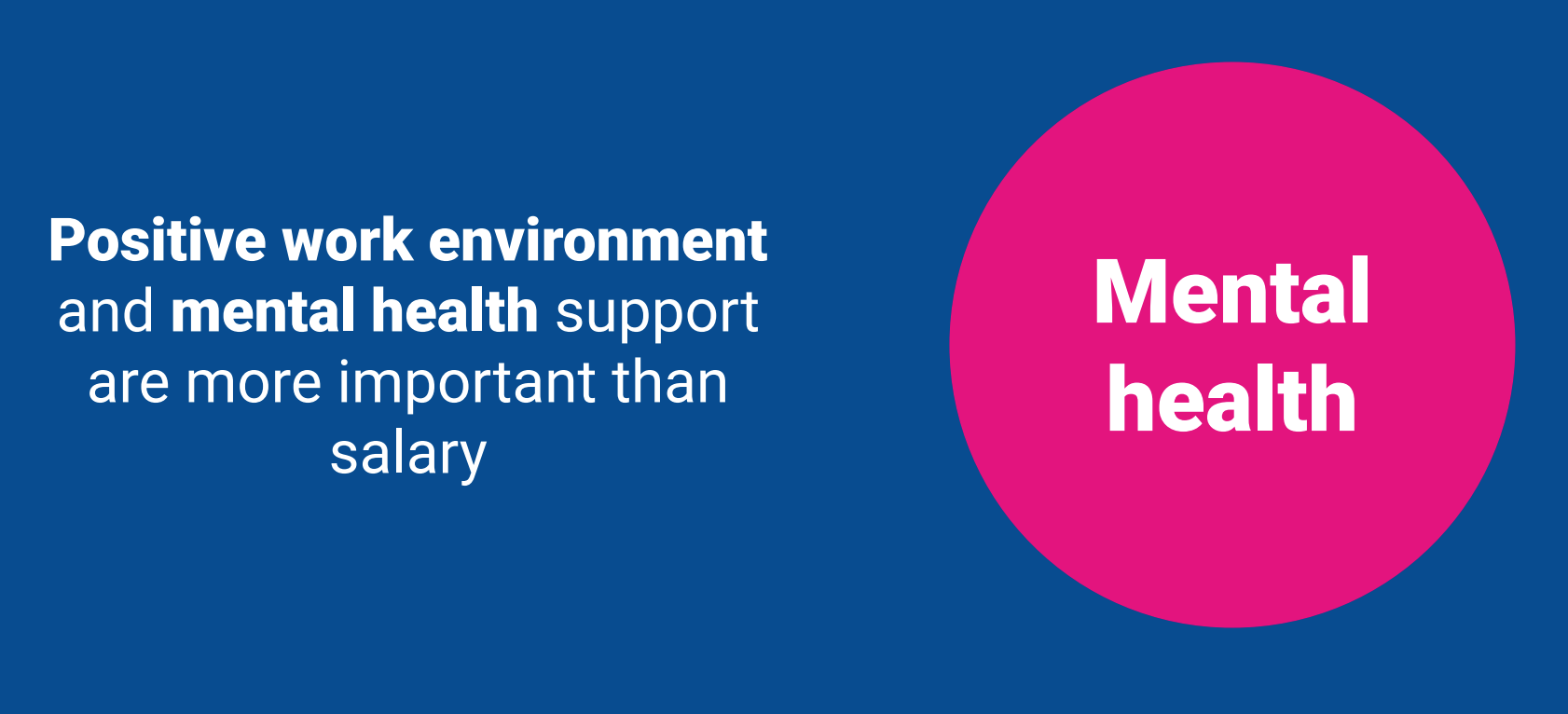 You don't need to change the world in a day
Like with every, 'simple how-to' article, this one also overlooks how much work goes into delivering this type of communication plan. So we say, start small.
Lay out your timelines, figure out what message you'd like to have out at which time of year, then decide which are the essentials.
Commit to getting the essentials out and remember, the beauty of this is, you can reuse your template next year and hopefully then you can start adding the "nice to have" emails which really give you and your audience the best value.
As you might guess, we're hugely passionate about how key your communications strategy is for recruitment, so if you'd like to run your ideas by us, need help planning, or anything else - please reach out to your Customer Success Manager or Support team at help@rmp-connect.com as we'd love to help!