Now that you're all set up and ready to go, here are our 'At the event' and 'Post event' tips -:
1. At the event
Star outstanding students
Thought a student particularly stood out? Why not star their record in app. Afterwards, you could consider having specific communications for those students that stood out.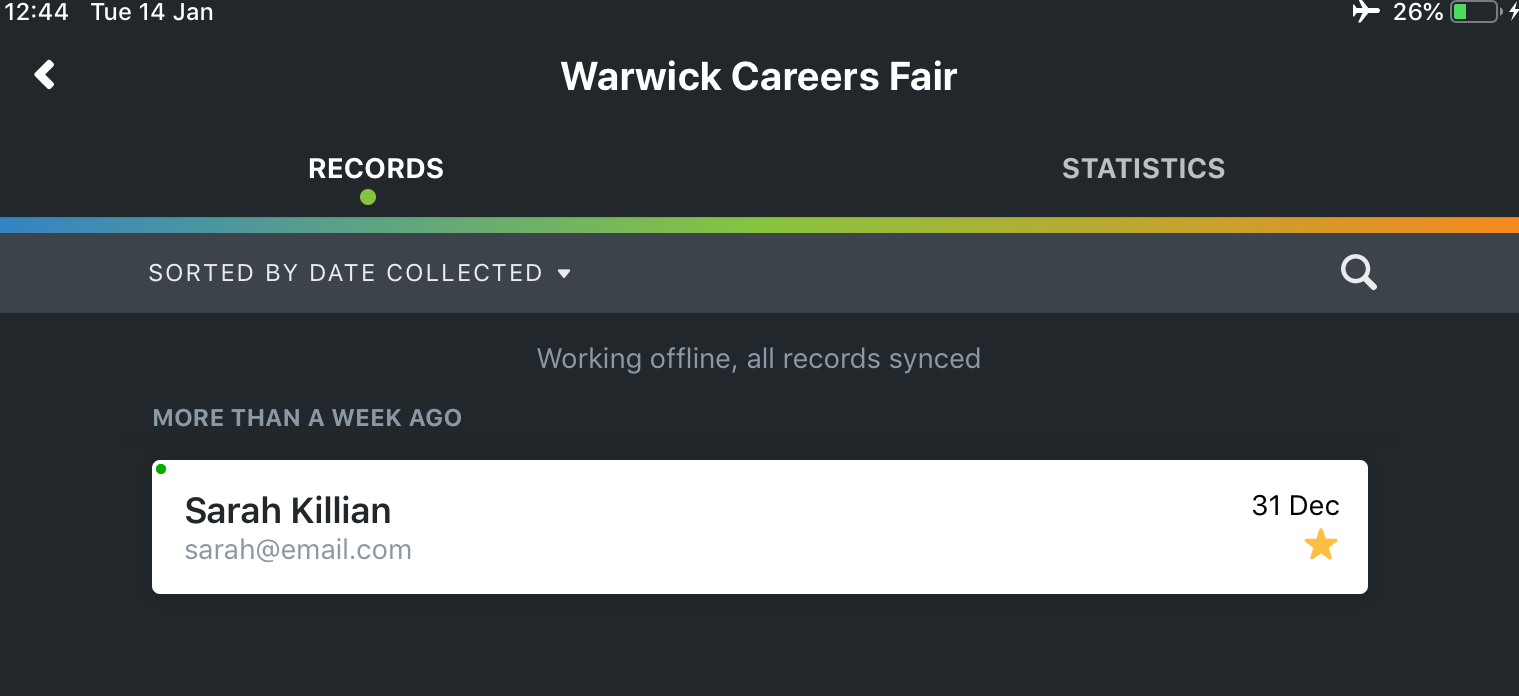 Refresh the app
If you're finding the app is running slower than you expect, it may just need to be refreshed so just double tap the app and swipe up.
Contact us
If you have any questions while at the event, don't forget, our Support team are on hand to help out, reach us at help@rmp-connect.com.
2. Post Event
The all important admin – syncing records
Especially if you've been working on airplane mode, probably the most important thing to remember is to make sure all your data is synced up to the dashboard.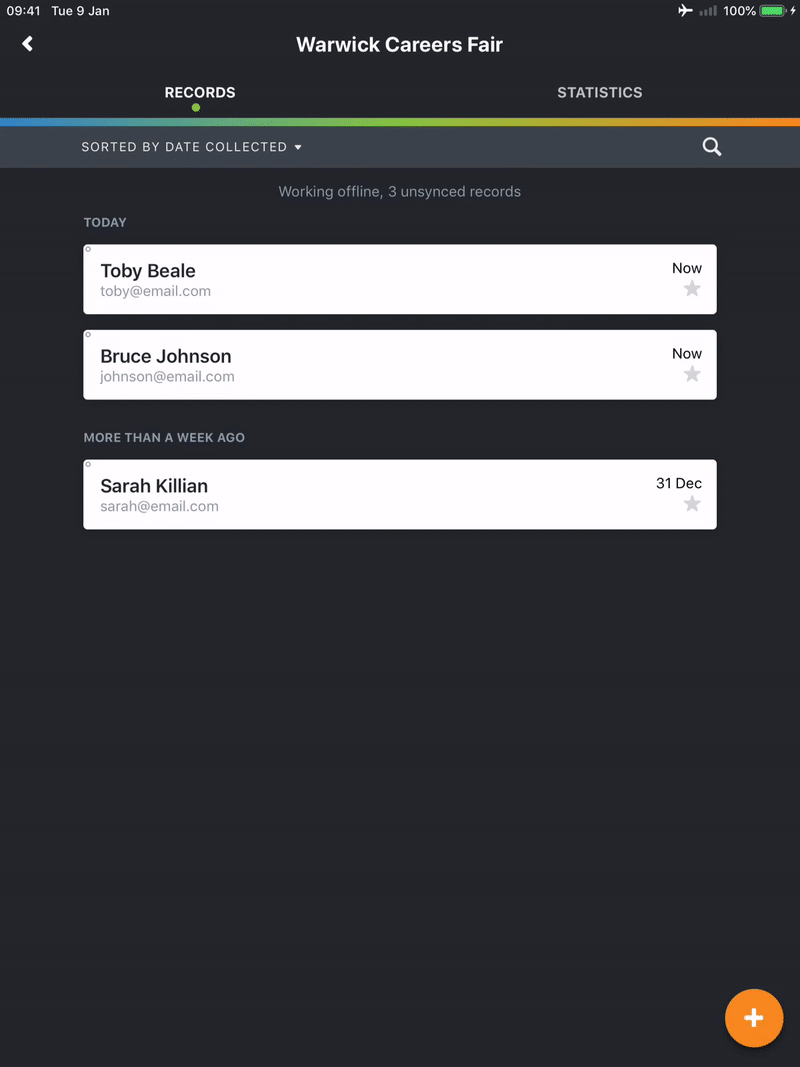 Post event Communications
So you've collected all this data –

what's the next step?

It's important to

revisit your original objectives

at this point.

Students are likely to be most engaged after events because they've just met you and learned about the great opportunities your company has to offer.

Now is the time to

start your 'keep warm' strategy

by contacting students with opportunities, newsletters, assessment centre dates, etc.
Segment your data with RMP Connect
Have a Female STEM or Diversity Presentation coming up in future? You can set up dynamic tags so you can identify the appropriate audience and send out comms. Dynamic tags identify which students are most relevant and best qualified for your roles.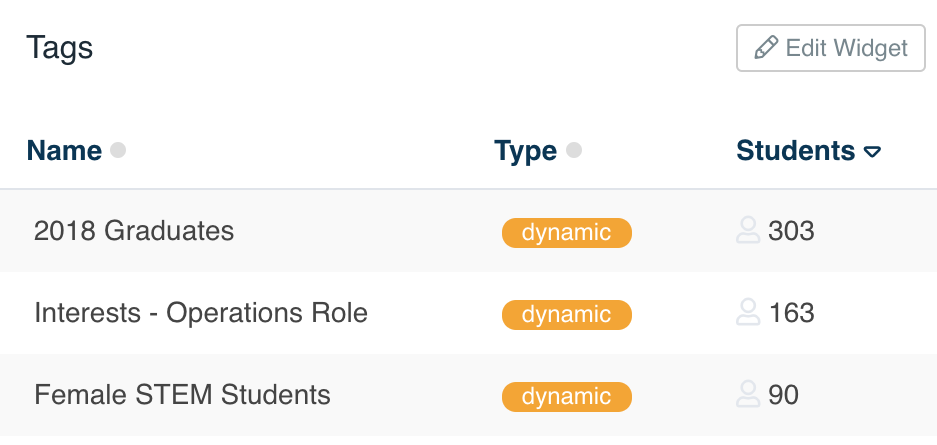 3. Reporting
There is so much you can do with do with the reporting suite and it's a step not to be missed. By utilising the reports in a way suited to your objectives, you can really inform your strategy for next year – see what's the most cost effective and what types events work best for company.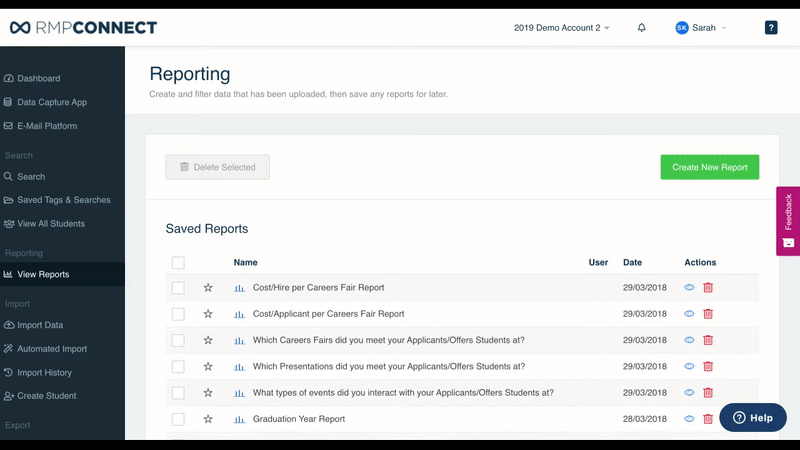 Student Reports
If you had a target to collect student records based on a certain criteria (e.g. students studying Law, Gender, etc.), you can set up reports to check this.
Attendance Reports
This can help inform which events are most popular, what type of pre event promotion worked, etc.
Cost based reports
Once you've made your hires – upload your hire and application data. Add your cost per event. Then you can easily make cost per hire/application reports while also seeing which events were the most effective at finding hires.
It's a busy time, so please reach out to us with any questions you may have and we hope all your events are a success!