About Dynamic tags
As mentioned in the Static Tag article, tags are used for grouping together students that have a particular characteristic e.g. graduation year or course.
Tagging students makes it easy to find students that meet the criteria you are looking for. Static tagging allows you to do this but, the added advantage of Dynamic tagging is that, when new students (that meet the relevant criteria) are added your Talent Pool, they are automatically assigned the relevant tag.
How to add Dynamic tags?
Go to 'Search' on the left of the screen
Select the relevant search criteria e.g. University > Course > Computer Science
Tap the green 'Search' button on the bottom right
Hit the grey 'Tag All' button
Select 'Dynamic'
Enter the name of the tag
Select 'Create tag'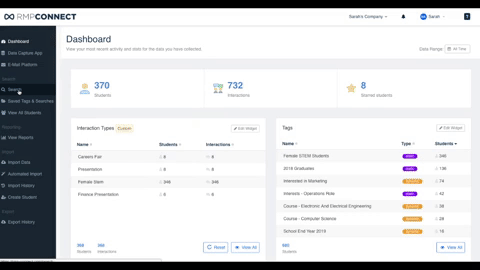 To view your tag, then go back to your dashboard where it can be viewed on the tag widget. In the video above, the widget has been customised to only show some tags. If this is the case for your dashboard and you want to see the new tag -:
Select 'Edit Widget'
Hit the drop-down menu and select your new tag
Hit 'Save' and your new tag will be visible on your dashboard
If you want to see all your tags, simply hit the 'Reset' button